San Jose, October 4: Sunday, October 15, 2016 marks the first day of the Medicare Annual Election Period. Every year, Medicare plans make changes to coverage, cost, and network providers. To assist persons 65 years of age and older interested in educating themselves, the Sourcewise Health Insurance Counseling & Advocacy Program will be presenting "Medicare Plan Changes and Updates 2017" at six convenient locations throughout Santa Clara County.
"It's important that individuals have a clear picture of updates/changes during this election period, because it can affect their health coverage and pocket books throughout the year. We ensure that residents have access to accurate, unbiased information to assist with their decision-making process," explains Connie Corrales, Director of the Health Insurance Counseling & Advocacy Program at Sourcewise.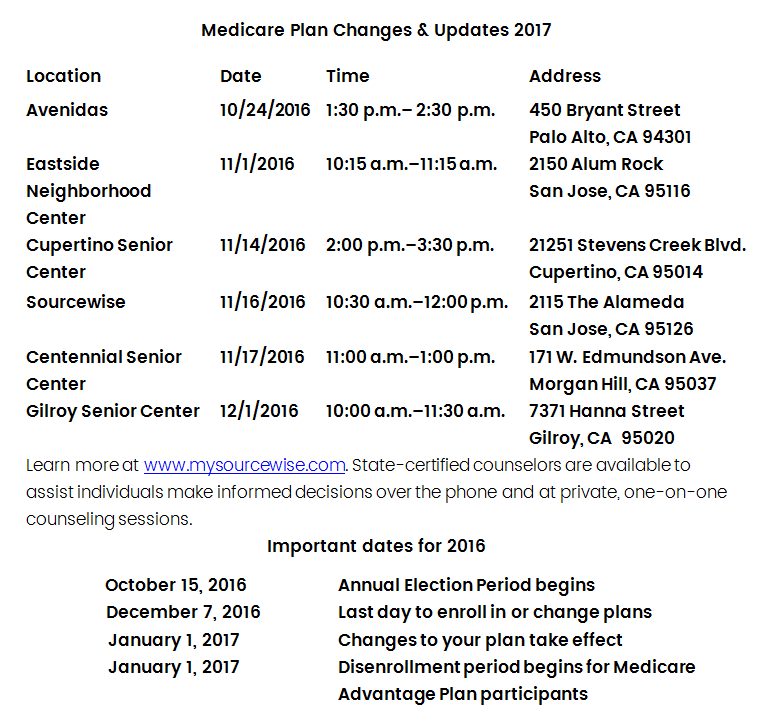 The Health Insurance Counseling & Advocacy program of Sourcewise does not sell, endorse, nor represent any insurance company. Sourcewise is an independent 501(c)(3) nonprofit serving seniors, families, and their caregivers in Santa Clara County since 1973. For more information, please contact Angelina Vallejos (408) 350-3200, option 2; community@mysourcewise.com.
######
Contact Info: Aneliza Del Pinal
Director, Public Relations
(408) 557-4701
adelpinal@mysourcewise.com
We welcome the re-use, republication, and distribution of Sourcewise content. Please credit us with the following information: Used with the permission of http://www.mysourcewise.com.