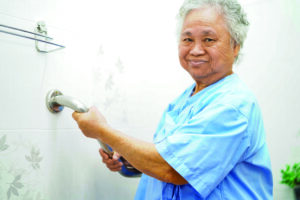 Do you want to grow old in your own home? Many older adults want to "age in place" – stay in their own homes as they get older – but may have concerns about safety, getting around, or other daily activities. Living at home as you age requires careful planning. A few changes could make your home easier and safer to live in and help you continue to live independently.
A list of some home modifications to help you or your loved one to help age in place:
Do not use area rugs and check that all carpets are fixed firmly to the floor.
Replace handles on doors or faucets with ones that are comfortable for you to use.
Install grab bars near toilets and in the tub or shower.
Reduce fall hazards: place non-slip strips or non-skid mats on tile and wood floors or surfaces that may get wet.
Place light switches at the top and bottom of stairs and remember to turn on night lights.
Install a ramp with handrails to the front door.
In addition to modifying your home, a large part of aging at home with dignity is about becoming familiar with other resources at your disposal. A fall prevention program can help you or your loved one gain more confidence and become aware of other possible risk factors that may affect mobility. 
Our Dignity at Home Fall Prevention Program assists with:   
Fall & Risk Assessment 
Individualized Fall Intervention 
Fall Prevention Education 
Injury Prevention Strategies
To learn more about aging in place, speak with a Community Resource Specialist: (408) 350-3200, option 1.  
Sourcewise Care Management programs offer support to adults in Santa Clara County with resources and options. The Care Management team works with clients and their loved ones to assess the client's situation and develop a personalized plan that fits their social,...