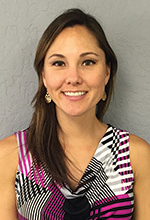 Alicia Forbrich is a 30-something entrepreneur who founded the San Jose Learning Center; the only language school in the South Bay. Alicia is a successful, bright, and family-oriented woman who spends the majority of her free time with her father, who was diagnosed with Parkinson's disease 18 years ago.
Until recently, Alicia and her sister collectively spent 60 hours weekly–often more–providing care for their father, ensuring he was safe at home and that all his critical needs were met. As a business owner, Alicia often sacrificed personal time to care for her father and to run the day-to-day operations of her office; while her sister juggled the responsibilities of new motherhood and caring for their father.
Alicia explained, "It is hard to find a dependable and patient caregiver. It is not like a business that if you do not show up, it's business as usual. Someone is depending on you and is helpless." Over time, the level of care her father requires has exceeded the sisters' capabilities.
A friend referred Alicia to Sourcewise and its Family Caregiver Support Program (FCSP) which provides temporary respite and links caregivers to support services, such as personal care, or adult day services. Mary Cyrus, FCSP Care Manager, initiated services to alleviate Alicia's caregiving responsibilities.
The respite care Alicia receives allows her precious time to tend to her flourishing business; as well as to enjoy hobbies such as mountain biking and traveling. She is even planning her next adventure abroad!
Alicia states, "Things have been going smoothly. Dad is taken care of; he is happy; which makes us happy. It [FCSP of Sourcewise] has helped plant a seed for our future; at least for the rest of my dad's life."
If you would like more information about FCSP, and other caregiver support options available in Santa Clara County, call a Community Resource Specialist of Sourcewise at (408) 350-3200, option 1.