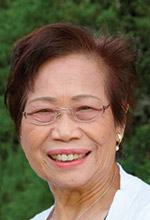 Anita Gong had a difficult situation: she needed to make a choice to keep her healthcare coverage.
Confused about navigating the various plan options of Medicare, Anita reached out to the Sourcewise Health Insurance Counseling & Advocacy Program (HICAP). She called and spoke with a knowledgeable counselor, who provided unbiased guidance, and assisted her with enrolling in the Medicare Part D plan. The counselor was able to help Anita get her coverage for her medications, saving her thousands of dollars.
In fact, Anita states, "Without his help and vast expertise, I'm sure I would not have coverage to this day. I wholeheartedly recommend HICAP [Sourcewise] and am eternally grateful."
At 80 years young, Anita volunteers with West Valley Community Services where she directly serves clients in the Food Pantry. A native of Santa Clara County since 1961, she currently resides in Cupertino. She remembers when Cupertino was full of orchards, not the bustling city it is today. She enjoys spending time with her children and grandchildren.
Before retiring in 1989, Anita worked long hours – up to 14 hours a day. That energy is now spent with her family and favorite hobbies: gardening and flower arranging. She also joined Sourcewise staff and volunteers to partake in the Fourth of July Rose, White & Blue parade and was seated atop the float, waving to spectators. "Anita was engaged with the crowd and proudly supported Sourcewise," states Elizabeth Brown, Parade Volunteer Coordinator for Sourcewise.
If you or your loved ones are seeking unbiased counseling for Medicare options, contact Sourcewise to speak to a Health Insurance Counseling & Advocacy Program specialist at (408) 350-3200, Option 2.