Baby Boomers Recognition Day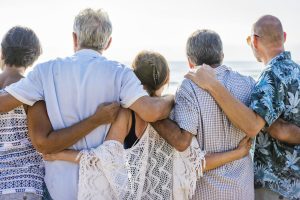 Every year, Baby Boomers Recognition Day is celebrated on August 17. Baby Boomers or simply 'boomers' refers to those born between 1946 -1964 in the U.S., which would be between the ages of 59 and 77 years old. Baby Boomers Recognition Day was initially held in June but was moved to August when boomers across the country agreed that it collided with Father's Day celebrations.
Some interesting facts about the Baby Boomer Generation, according to National Today:
The first manned space mission and the first lunar landing were both witnessed by boomers.
In 1967, about 100,000 baby boomers came together in Haight-Ashbury, San Francisco for an event now known as the 'Summer of Love'.
In 1969, 400,000 people gathered on the fringes of Woodstock, New York for a three-day music event from August 15 to 18. The event provided the boomers with the ideal opportunity to convey their message of love and peace while also enjoying some amazing music.
On Baby Boomers Recognition Day, congratulate people born in this era. You can dress in 1950s and 1960s fashion and listen to music from that time. Take the time to celebrate a baby boomer close to you. It could be your parents or someone outside your family. If you are a part of the boomer generation, use this time for reflection and take a trip down memory lane by sharing the ideas of peace and love that drove your generation with loved ones.
To learn more about ways to celebrate baby boomers, speak with a Community Resource Specialist at (408) 350-3200, option 1.