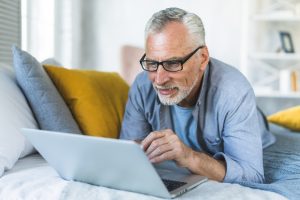 Older adults and caregivers are adapting and taking on new technological advances as they come and find new ways to stay connected, live longer, and all within the comfort of their own homes.
Caregivers can take the time to show their loved ones how to use some of these smart devices, and keep in mind that their loved ones may have never used any of these devices in the past. Additionally, digital technology can offer practical solutions for caregivers seeking to solve a problem, learn new skills, and get support.  
A few ideas to consider as a caregiver to your starting point:
Smart TVs can be hooked up to the internet so caregivers' loved ones can easily watch exercise videos on YouTube. They both can set up favorites and follow channels that have videos geared toward their loved one's physical abilities.
Technology also allows virtual visitations for those times when family members and friends cannot visit in person. Show your loved ones the benefits of virtual communication.
Help your loved one set up a medical alert system that shares newer applications and offers more robust features like fall detection, activity monitoring, and caregiver integrations.
Technology should not be seen as a substitution for hands-on care. Technology can be seen as a way to enhance the physical care necessary for loved ones to age in place, and its use should be encouraged as a way to keep loved ones healthy, active, and safe.
To learn more about the new technological advances and additional methods one can take on as a caregiver, speak with a Community Resource Specialist: (408) 350-3200, option 1.