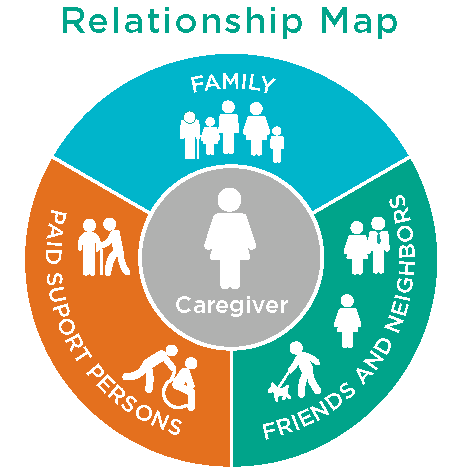 Fifty percent of caregivers indicate their loved ones needed 13–24 hours of daily assistance. Twenty-one percent of caregivers state their biggest challenge is a lack of adequate time to care for themselves or other family members, according to a recent study conducted by the National Alliance for Caregiving and AARP.
On average, caregivers spend approximately four years providing care, with nearly one-quarter acting in this capacity for five years or longer.
More astounding data collected by the Administration on Community Living for caregivers served by the National Family Caregiver Support Program in 2016 shows that about 30% of caregivers have provided care for 5–10 years; with 12% in this role for 11–20 years.
Atlas of Caregiving, a nonprofit organization dedicated to family caregivers, has developed a tool to facilitate managing critical challenges caregivers address.
The Atlas CareMap provides an understanding of the "ecosystem of family caregiving; the relationships that surround caregivers; and factors which shape their experiences," states founder of the project, Rajiv Mehta. The end goal is to map resources and support networks.
This relationship map illustrates the caregiver's support system; highlighting what is working well. Completed maps offer valuable insights into the duties of a family caregiver, facilitating important discussions around sharing responsibilities and workload.
Alice Jordan, 69, is the primary caregiver for her partner, Vickie, 64, who has multiple sclerosis. Alice and Vickie's brother were the only ones caring for Vickie. After drawing a CareMap, Vickie says, "It made me realize I had more support than I thought." And for that, she added, she's very grateful.
Create your own relationship map by visiting www.atlasofcaregiving.com.
This article includes excerpts from a story published by California Healthline, an editorially independent service of the California Health Care Foundation.
Sourcewise Community Resource Specialists provide support to caregivers by linking you to available resources. Call for more information: (408) 350-3200, option 1.