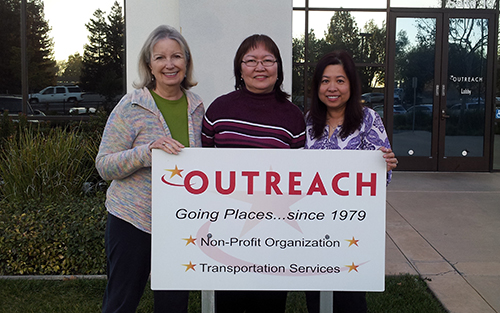 Since 1979, Outreach, a private non-profit organization, has provided transportation options for older adults, individuals with disabilities, and low income families.
The Outreach STAR mobility program (sponsored by Sourcewise) assists seniors needing transportation. Lien Nguyen, an Outreach manager, is delighted with the success of the program.
Lien shares, "We currently serve over 3000 individuals!" The program provides a selection of innovative options for the ever expanding and diverse population in Santa Clara & San Mateo Counties. Whether the need is to help seniors travel to healthcare appointments, shopping, or work, the STAR program provides door-to-door transportation for seniors. Sourcewise has been a proud financial contributor to Outreach for over 35 years.
Outreach also provides bus passes for individuals who cannot afford the cost of public transportation.
For those less knowledgeable about public transportation, training hosted by a VTA representative is offered to older adults wanting to learn to navigate the public transit system. A free guided ride to and from a venue of choice is included.
Shared rides are encouraged, and seniors receive a gift card to share with their driver for gas expenses. There are also programs for walking and biking at Outreach, designed to keep seniors healthy and active.
For more information about the programs and services offered by Outreach and other transportation resources throughout Santa Clara County, please contact the Community Resource Specialists of Sourcewise: (408) 350-3200, option 1.