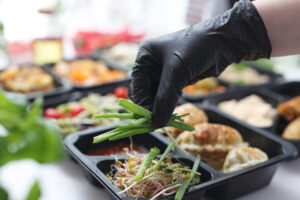 Most people know good nutrition and physical activity can help maintain a healthy weight. Though, the benefits of good nutrition can go beyond weight.
Maintaining a healthy diet can reduce the risk of some diseases, including heart disease, diabetes, and stroke. Good nutrition can also help improve your wellbeing, improve your ability to fight off illness, and your ability to recover from illness or injury. According to National Council on Aging, your metabolism slows down as you grow older so you need fewer calories than before.
Your body also needs more of certain nutrients, so being selective of the foods you eat can give you the best nutritional value. Your plate should look like a rainbow-bright, colored foods are the best choice and can make eating healthy enjoyable.
A healthy meal should include:
Lean protein (lean meats, seafood, eggs, beans)
Fruits and vegetables (think orange, red, green, and purple)
Whole grains (brown rice, whole-wheat pasta)
Low-fat dairy (milk and its alternatives)
To maintain your weight, eat the right amount of food for your age and body. The American Heart Association provides recommended daily servings for adults 60 and older.
Looking for ways to improve your nutrition? The What's on Your Plate? is a free publication from the National Institute on Aging that offers information on healthy eating plans, nutrients, food safety, and more.
To learn about getting access to healthy food, speak with a Community Resource Specialist: (408) 350-3200, option 1.