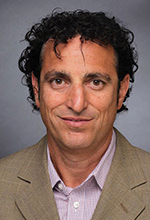 Amir Erez was born and raised in Israel, moved to the United States in 1993, and was granted U.S. citizenship in 1997. Amir is fluent in Hebrew and English.
Amir's passion for helping people led him to a career as a dedicated social worker.
In 2006, Amir joined the Sourcewise Multipurpose Senior Services Program (MSSP) as a care manager.
Amir states, "I love the interaction with my clients and their families, and I appreciate their positive feedback."
"In the nine years that Amir has worked in MSSP, he has provided care management to hundreds of vulnerable seniors in our community. His clients and their family members have expressed appreciation for his compassion and hard work. Amir provides support for clients to remain safe and well cared for at home." said Colleen McFadden, Supervisor of Care Management.
Amir's clients range from 65 to 101 years. Amir takes his job seriously as an advocate for his clients and their families; he provides care management and support, assisting his clients to access the vital resources they need. Colleen added, "Amir provides a spark of energy to the entire MSSP team with his spirited enthusiasm."
Music has always been a big part of Amir's life. He plays the keyboard and sings in a rock band. He also plays tennis three times per week and is in the United States Tennis Association League. Amir also enjoys working in his flower garden.
If you know of someone who may benefit from Sourcewise Care Management, call (408) 350-3200, option 1 or email community@mysourcewise.com.