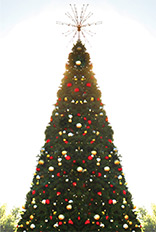 The holiday season brings so much joy! As we try to create a great family celebration, sometimes we feel stressed as we balance our additional responsibilities. This holiday season, enjoy time with family and friends, and simplify your life.
Here are some suggestions for dealing with holiday stress:
Make sure to eat healthy, nutritious food, drink plenty of water, and maintain your exercise routine.
Keep expectations for the holidays realistic by prioritizing your most important activities.
Recognize and respect your limits.
Share holiday chores with family. Finish with hot chocolate!
Don't exceed your budget! Those bills will pile up in January.
Rest when you are tired! Remember to relax and enjoy the peace of the season.
Look forward to new experiences in the New Year!
Make a list of all you have to be grateful for.
Attend festivities locally with your community members.
Make plans with supportive, caring friends and family.
Carve out some "me" time! Plan some special treats for yourself.
And as the old song goes, "Let Your Heart Be Light"!