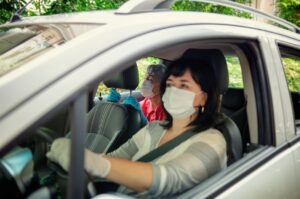 The Sourcewise Transit Service (STS) was initiated for Sourcewise South County Services after a needs assessment was conducted in 2016. One of the services originated included door-to-door transportation for adults 60 years of age and older to go to the Gilroy Senior Center and Centennial Recreation Center in Morgan Hill. Since its launch in April 2017, eligible seniors received free rides to the centers that provided a hot lunch and socialization.  
In March 2020, the STS was paused when the community centers closed their doors due to the COVID-19 pandemic. This decision was also made for the safety of our clients and staff.  
The COVID-19 pandemic heavily affected the Southern Valley of Santa Clara County community just like all others, where our senior community felt isolated and feared going out into the community. When the community centers temporarily closed, Sourcewise saw the need for door-to-door transportation to grocery stores, medical appointments, and for general errands.  
Once vaccines became available, Sourcewise resumed the STS in February 2021. Additionally, the services expanded to offer transportation to medical appointments, vaccine appointments, pharmacies, and grocery stores in Morgan Hill, San Martin, and Gilroy.  
Sourcewise developed a safety protocol for both drivers and clients. The safety protocol included installing protective shields in the vehicles, providing drivers with personal protective equipment, having drivers disinfect vehicles before and after every ride, providing transportation to one client at a time, having all clients wear a mask properly while in the vehicle, and having temperature checks for all clients before entering the vehicle. All vehicles also receive monthly oxygen cleaning through a detailing service.    
In August 2021, the community centers in Gilroy and Morgan Hill reopened their doors which allowed Sourcewise resume transportation for returning and new clients. Since February 2021, the STS has served 116 clients and has provided 900 one-way rides through December 10, 2021.  
To learn more about the Sourcewise Transit Service, speak with a Community Resource Specialist: (408) 762-7362.