Explore Care Management Services by Sourcewise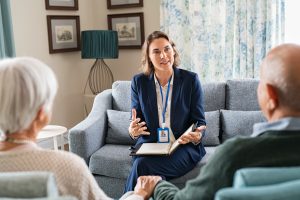 Sourcewise Care Management programs offer support to adults in Santa Clara County with resources and options. The Care Management team works with clients and their loved ones to assess the client's situation and develop a personalized plan that fits their social, physical, and budgetary needs.
Multipurpose Senior Services Program (MSSP) – MSSP care managers work with frail older adults who need additional supportive services. The focus is to help the client live safely at home. This program includes yearly assessments by care managers and nurses, referrals to community resources, and financial help for hygiene supplies, transportation, emergency response systems, and more. To be eligible, adults must be 65 or older and receive Medi-Cal benefits with no share-of-cost in Santa Clara County.  
Enhanced Care Management (ECM) – ECM provides a whole-person approach to care that supports high-need Medi-Cal recipients. A lead care manager in ECM helps clients navigate medical appointments, connect with health providers, and support chronic health needs. Referrals for community services are made for housing, food, and other benefits. Clients receive regular home visits to ensure continual health and well-being. To be eligible, adults must be 18 or older, and be a member of managed care Medi-Cal via Santa Clara Family Health Plan or Anthem Blue Cross.  
Community Supports (CS) – The CS program provides Nursing Facility Transition and Diversion Services. CS helps individuals in care facilities shift back into the community and prevent placement into skilled nursing facilities. The CS team helps with discharge planning and transition to appropriate placement. Financial assistance for care costs at Residential Care Facilities is also available. To be eligible, adults must be 18 or older and receive Medi-Cal Anthem Blue Cross benefits in Santa Clara County. 
To learn how to apply for a Sourcewise Care Management program, contact the Care Management team at (408) 350-3226 or email caremanagement@mysourcewise.com.