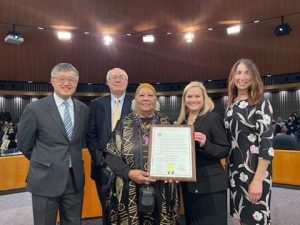 For over fifty years, Ellen Rollins has been devoted to helping people as a nurse and health care provider.
Ellen has served on several public boards and commissions in Santa Clara County (SCC), including eight years on the Sourcewise Advisory Board back when it was formerly known as the Council on Aging Silicon Valley.
When volunteering for the African American Community Services Agency (AACSA), Ellen focused on fundraising for the annual Juneteenth celebration. With Ellen's perseverance in fundraising, the AACSA became fully funded with a line item now in SCC's budget. Ellen's current focus is on making Juneteenth a state holiday then taking it to the international level. Earlier this year, Ellen was nominated into the Black Legends Hall of Fame Silicon Valley 2023 and was presented the Joyner-Stroughter Community Service Award on February 18, 2023, for her dedicated work "to provide essential services to enhance the quality of life for people in the Black community." Ellen's contributions and dedication to Silicon Valley's African American community also reflects a great commitment to her family and herself. On March 13, 2023, Ellen was recognized and commended by the County of Santa Clara Board of Supervisors for her life-long dedication to bettering the lives of children, seniors, and veterans, and for supporting the labor movement and the African American community in SCC.
"I am proud of Santa Clara County. This county cares about its residents and has the intent to care about everyone", Ellen states. Currently serving her second term, Ellen is a proud member of the Sourcewise Advisory Council. She has always felt that she could lend a voice to the Council and the community.
If you are interested in learning more about the Advisory Council and openings for new members, contact Shirley Loffer (shirleyloffer@aol.com) or Tom Picraux (stpicraux@gmail.com) Membership Co-Chairs.