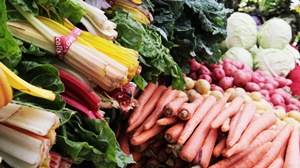 The Meals on Wheels program of Sourcewise is one of 5,000 dedicated community-based services in the United States providing homebound seniors (60 years and older) access to nutritious meals, regardless of their economic status.
Title III of the Older Americans Act (OAA) legislates the delivery of support services nationwide for local community-based providers, including Meals on Wheels. III ensures that older adults are provided services to maintain maximum independence; remove economic and social barriers; and receive a continuum of care to remain safely at home.
In fiscal year 2015– 2016, the Sourcewise Meals on Wheels program (MOW) provided 1,570 individuals with 678,000 nutritious meals— delivered right to their door. While the program focuses on providing nutritious meals to homebound seniors, MOW drivers also conduct a safety check and a friendly visit to ensure that the recipient is safe.
Diana L., a diabetic, has been making efforts to watch her diet and enjoys the two daily well-balanced meals she receives from MOW. She advised Sourcewise that her last doctor's visit showed good results. Diana attributes this good news to MOW. While not specially designed for persons with diabetes or high-blood pressure, the meals are low in sodium and sugar content.
JoAnn G. advised that Meals on Wheels helped her when she was recently released from the hospital. Unable to cook for herself; not able to drive; and with no family nearby, JoAnn says her Meals on Wheels deliveries have been a God send.
Thirty-nine congregate meal sites (often at senior centers) exist in Santa Clara County; providing seniors an opportunity to enjoy a hot meal and socialize. Santa Clara Senior Center and others offer hot lunches for a small suggested contribution.
Sourcewise also supports Santa Clara County Senior Nutrition Program, The Health Trust, and Yu-Ai-Kai to provide nutrition options for seniors.
Learn about meal options from a Sourcewise Community Resource Specialist: (408) 350-3200, option 1.