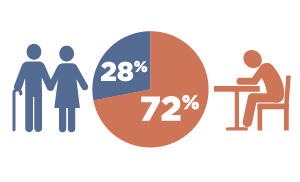 Relationships and socialization play a key role in maintaining a healthy qualify of life. From having coffee with a neighbor or taking an art class at a community center, the options are limitless when it comes to socialization.
Public Health officials of Santa Clara County continue to reinforce adults aged 65 and older to limit unnecessary travel and face to face social interaction with individuals outside of their household during the Coronavirus (COVID-19) pandemic. During the shelter in place orders, only essential businesses and services are operating, leaving social activities at senior and community centers cancelled or transitioning in-person programs to online platforms, like Zoom. As a result of these changes, some older adults have experienced an increase of social isolation. According to a study conducted by SocialPro in April 2020,
"Seventy-two percent of adults aged 55 and older felt lonely because of the pandemic, while twenty-eight percent did not feel lonely."
Ananya Karthik, Stanford University student whom launched Santa Clara County Helping Hands, described the affects of the pandemic on older adults raging from increased difficulty obtaining essential items to struggling with isolation and loneliness. Santa Clara County Helping Hands matches individuals at higher risk for COVID-19 with volunteers who can help deliver necessities like groceries and prescriptions.
To help older adults maintain social interaction in the face of the pandemic, the Sourcewise Ambassador Program connects volunteers with homebound older adults by phone to provide emotional and social support. If you are interested in volunteering as a Sourcewise Ambassador, send an email to community@mysourcewise.com. Additionally, the Institute on Aging provides a 24-hour Friendship Line that offers non-emergency emotional support calls aimed to reduce loneliness and crisis intervention.
Learn more about socialization opportunities and virtual recreational classes near you. Contact a Sourcewise Community Resource Specialist: (408) 350-3200, option 1.