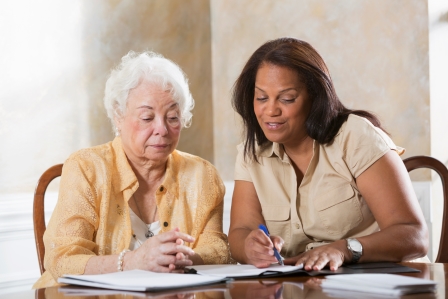 Eligible Santa Clara County (SCC) residents can expect to receive key updates at presentations scheduled throughout SCC and benefit from individualized one-on-one counseling, all provided by the Sourcewise Health Insurance Counseling & Advocacy Program (HICAP).
The Medicare Annual Enrollment Period (AEP) occurs annually October 15 through December 7. Similar to annual tax preparation, October is the annual time to review your Medicare Part D plan for changes to drug prescriptions and pharmacy network affiliations. October is also the time for Medicare Advantage Plan members (also known as Part C) to review their respective plans and make any changes if necessary.
During AEP, existing Medicare beneficiaries may enroll into, change, or drop a Medicare Part D drug plan or a Medicare Part C HMO for new plans that become effective January 1, 2020.
Personalized, one-on-one counseling sessions are available Part D and Part C plan changes.
"This year, we will present on the topic "Medicare Options and Updates for 2020" at 25 locations. We are also aiming to include presentations in Vietnamese, Gujarati, Punjabi and Hindi in addition to other languages we provide: Spanish, Mandarin and Japanese," said Angelina Vallejos, Medicare Modernization Act Specialist of Sourcewise HICAP, Other languages are available at counseling sessions.
If your organization, club, or church is interested in hosting a Sourcewise Medicare presentation, Sourcewise HICAP has several facilitators who can tailor your presentation in various languages and topics to best suit your needs.
Sourcewise HICAP also provides financial application assistance for Medicare beneficiaries with incomes less than $2,114/month for couples and $1,561/month for singles; and whose savings/assets are also less than $28,720 and $14,390 respectively.
HICAP counseling is free, unbiased, and available to Medicare-eligible Santa Clara County residents. Visit mysourcewise.com/appointments to view counseling sites and scheduled presentations.
To attend a free, unbiased, educational presentation or schedule a one-on-one appointment with a HICAP counselor, contact (408) 350-3200 press 1 for English, option 2 for HICAP (oprima 2 para Español, 2 para HICAP).