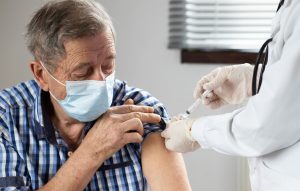 As a variety of information about the Coronavirus (COVID-19) vaccinations  stirs throughout the nation, keeping  informed with accurate vaccine information can help individuals stay  prepared and remove false claims about the safety of the vaccines.    
As stated by the Centers for Disease Control and Prevention (CDC), the COVID-19 vaccine helps our bodies develop immunity to the virus that causes COVID-19 without us having to get the illness. Getting vaccinated is one of many steps you can take to protect yourself and others from COVID-19. It is encouraged to continue to wear face masks and social distance to help reduce your chances of being exposed or spreading the virus to others.    
Medicare beneficiaries can receive medically necessary items and services related to COVID-19 from health care providers who accept Original Medicare or is in-network with their Medicare Advantage Plan. According to Medicare.gov, Medicare beneficiaries pay nothing for the COVID-19 vaccine and cannot be charged an administration fee to receive the shot. Avoid sharing your personal or financial information if someone is promising access to the vaccine for a fee. When filling out the form to get the vaccine, be sure to bring your red, white, and blue Medicare card so your provider or pharmacy can bill Medicare.   
Pharmaceutical manufacturers have been distributing the vaccine to federally and state-approved locations to start the vaccination of tier groups. Each state has its own plan for deciding who they will vaccinate first and how residents can get vaccines. As reported by the California Department of Public Health, California is building on lessons learned from previous vaccination campaigns and seasonal influenza efforts to prepare and plan for the receipt and distribution of the COVID-19 vaccine and its implementation across the state. Access COVID-19 vaccine information by keeping informed with the California Department of Aging. 
To learn more about COVID-19 vaccine resources near you, speak with a Community Resource Specialist: (408) 350-3200, option 1.