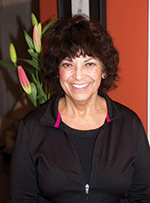 Gloria Cutshall has been a volunteer with the Health Insurance Counseling & Advocacy Program (HICAP) since May of 2005. As an exceptional counselor, she devotes her time and expertise regarding health insurance to seniors in our community.
Gloria is an early bird, waking up at 4:30 a.m. to begin her day. She keeps busy volunteering at a number of organizations, including Eastside Community Center, and Sourcewise. Gloria also has four energetic grandchildren, whom she shuttles around to after-school activities.
As a retired high school administrator who is fluent in Spanish, Gloria devotes most of her time assisting Spanish-speaking clients, as well as former educators with California Retired Teachers Association (CalRTA), answering questions surrounding healthcare coverage.
"Gloria truly is an asset to HICAP," Connie Corrales, Director of HICAP, explains. "She demonstrates great initiative in her dedication to her clients and desires to ensure that they receive the best service that she is able to provide."
Gloria finds it rewarding to work on complicated cases and is determined to find the best results for her clients. She states, "I like the fact that a majority of my clients come back to see me. We become friends. I get to know them really well."
Gloria writes a column for The Monitor, a newsletter produced for retired teachers; she also writes Medicare updates. She explains, "I keep hearing over and over again how valuable the services are that we provide as HICAP counselors. They [our clients] marvel at the fact that we volunteer to perform a vital service for them at no cost."
If you have questions regarding your healthcare coverage or need help with other concerns, call our Community Resource Specialists today: (408) 350-3200, option 1.