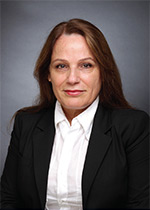 Mary Cyrus is a Care Manager for the Family Caregiver Support Program (FCSP), and a Community Resource Specialist for Information & Awareness. She has worked at Sourcewise for over 7 years and loves to support her clients. Mary finds her job very rewarding, stating "when you help others, you help yourself."
Mary has developed strong bonds with her clients. She often receives calls from individuals she has served over the years, inviting her to a party or just to talk.
Recently, an 80 year old gentleman with health problems (who is also caring for his ailing wife) called Mary and told her, "just to hear your voice gives me hope." Mary states, "Working so closely with caregivers has given me great admiration and appreciation for them."
Crystal Shafiabady, Director of Information & Awareness, says, "Mary is dedicated to the clients we serve and is an invaluable resource to our team. She cares deeply about helping each individual we serve, and informs all of our Community Resource Specialists about available resources and important details for difficult situations. Mary has been and continues to be an important contributor at Sourcewise."
Mary is a great addition to the Sourcewise team, and we appreciate her compassion and kindness to all those she serves.
For more information on community resources available in Santa Clara County as well as information on the Family Caregiver Support Program, call our Community Resource Specialists at: (408) 350-3200, option 1.