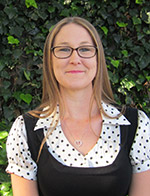 Rosie Fontes enjoys being a Community Resource Specialist at Sourcewise. Throughout the past 11 months, she has made a positive impact on the organization and the individuals she serves. Rosie is dedicated to finding the best resources available, given the various unique circumstances she encounters with her clients throughout Santa Clara County.
A proud aunt, Rosie enjoys spending time with her family, especially her three-year-old niece, who she loves to spoil with shoes. Rosie also enjoys walking her dogs, hiking, and riding her bicycle. She recently learned to ride a dirt bike at Carnegie State Park.
"Rosie is kind, caring, and a good listener. She does everything she can to find the best options for our callers," states Aneliza Del Pinal, Director of Public Relations. "In December, Rosie organized a coat drive, collecting 36 coats to be donated to those in need…This was the first coat drive Sourcewise ever had."
Rosie says, "The most rewarding part of my job is following up with my clients to ensure that the resources provided were helpful. It makes me happy when a client receives the help they need as a result of information we provided."
Rosie also invests time to update and add new services to the Sourcewise resource directory, making sure our information is current and accurate.
"Rosie is someone I rely on—I know I can count on her to do her best and always have a good attitude about it. I constantly hear high praise from individuals she has served," said Crystal Shafiabady, Director of Information & Awareness.
If you have questions regarding available resources in your community, or need help addressing other concerns, call our Community Resource Specialists at (408) 350-3200, option 1.