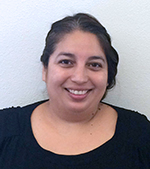 Rosie Jimenez is a San Jose native who loves her community. Her passion for helping people led to a career as a registered nurse and a certified case manager. She focuses on educating clients and their families on available healthcare services in their community.
Rosie has worked with various health care programs throughout her 20 year career, including durable medical equipment providers; community based adult services; and health insurance companies. She has experience working with seniors, persons with disabilities, and their families, and goes the extra mile to find the right resources for them.
Rosie enjoys serving across cultures and languages since she is fluent in both English and Spanish, and is also a certified medical interpreter.
Rosie states, "I have enjoyed serving the Latino community and learning more about my own culture."
In September 2014, Rosie joined Sourcewise as a case manager with the Multipurpose Senior Services Program (MSSP). Recently promoted to the Director of South County Services, she is excited to lead the Sourcewise satellite office in Morgan Hill. (See our cover story for more details.)
Understanding the needs of Santa Clara County residents, Rosie states, "It is important to be able to go to the area that is underserved. That is why I am very excited to be the site director for South County; to help people gain access to services."
Rosie loves animals, especially her dog, Max. She enjoys traveling with her husband, and learning new things. She attends church services weekly and participates in a family life program helping young adults.
To contact the Sourcewise South County office, call (408) 762-7362; or email southcounty@mysourcewise.com.