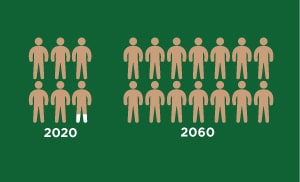 Alzheimer's disease is a serious condition that most commonly affects older adults of any background or origin, especially among people whose family has a history of Alzheimer's. As we get older, it is encouraged to get checked up and get a diagnosis. November is Alzheimer's Disease Awareness Month, and it is an especially good reminder to learn more about this type of dementia, how to spot it, and how to cope with it. Whether it's during November or any other time of the year, understanding Alzheimer's disease can improve the quality of life for those with previously undiagnosed Alzheimer's.
According to the Centers for Disease Control and Prevention (CDC) as of 2020, 5.8 million Americans are known to be living with Alzheimer's disease and this number is expected to triple to 14 million by 2060. While it is commonly assumed to only affect older adults, the disease can also affect individuals under age 65. Though the risk is much lower among younger people, the risk increases with age, doubling every five years beyond age 65.
Some of the symptoms of Alzheimer's include memory loss that disrupts daily life, trouble with money or bills, decreased or poor judgment, difficulty completing daily tasks, and changes in mood personality, or behaviors. While there is no known cure for this disease, early diagnosis can help with treatment to manage the symptoms, slow the disease's progress, and maintain brain health.
Alzheimer's Awareness Month is a time to help raise awareness of this disease and to show support for those living with it. There are a number of ways you can help raise awareness, show support, and fight Alzheimer's disease.
To learn more about promoting Alzheimer's Awareness Month, speak with a Community Resource Specialist: (408) 350-3200, option 1.
Sourcewise Care Management programs offer support to adults in Santa Clara County with resources and options. The Care Management team works with clients and their loved ones to assess the client's situation and develop a personalized plan that fits their social,...