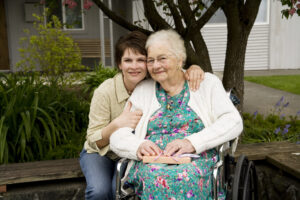 Celebrated each November, the National Family Caregivers (NFC) Month, is a time to recognize and honor family caregivers across the country. The Caregiver Action Network (CAN) organization began promoting the national recognition of family caregivers back in 1994.
In 1997, Bill Clinton signed the first NFC Presidential Proclamation and every president since has followed suit by issuing an annual proclamation recognizing and honoring family caregivers each November.
Each year CAN hosts the national observance and shares education, peer support, and resources to family caregivers. CAN offers a different theme each year and the theme for 2021 is #CaregiverAnd. This year's theme encourages family caregivers to celebrate the identities and passions that enrich their life. Many times, your role as a family caregiver can overshadow your identity and emphasize the care you provide for your loved one. Your sense of self makes your life complete. This is a component of self-care that can prevent caregiver burnout.
According to research conducted by the Administration for Community Living (ACL), families are the primary source of support to older adults and people with disabilities in the U.S. Caregiving can take a significant emotional, physical, and financial toll. With nearly half of all caregivers over the age of 50, many are vulnerable to a decline in their health.
Celebrating family caregivers during NFC month enables all of us:
To raise awareness of family caregiver issues
To celebrate the efforts of family caregivers
To educate family caregivers about self-identification
To increase support for family caregivers
Additional studies conducted by the ACL demonstrated that coordinated support services can reduce caregiver depression, anxiety, stress, and enable them to provide care longer, which could potentially avoid or delay the need for costly institutional care.
To learn more about National Family Caregivers Month, speak with a Community Resource Specialist: (408) 350-3200, option 1.