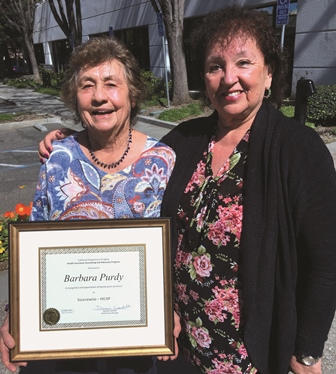 In observance of Older Americans Month, Sourcewise extends deep gratitude to the dedicated Health Insurance Counseling & Advocacy Program (HICAP) volunteer counselors who give tirelessly of their time to serve their fellow community members.
The majority of counseling services for Santa Clara County residents are provided by volunteers. In 2018, Sourcewise HICAP volunteers collectively served 1,180 individual clients. Sourcewise HICAP is currently comprised of 37 California state-registered volunteer counselors whose ages range from 60–86 years old and who actively serve at 33 counseling sites throughout Santa Clara County.
On March 29, 2019, Sourcewise HICAP recognized 14 dedicated volunteers for reaching key milestones in their years of service. Marcelo Espiritu, Sourcewise HICAP Director, presented each volunteer with a service pin and certificate on behalf of the California Department of Aging (CDA) and Sourcewise for their years of service ranging from 5 to over 20 years of service.
Barbara Purdy received special recognition from CDA for 21 years of service, acknowledging her selfless commitment and dedication to the Santa Clara County community.
Each May, the contributions of a growing population of older adults is celebrated. The Administration on Community Living leads our nation's observance of Older Americans month, and this year's theme focuses on the importance of contributing to the community.
"I get all teary-eyed when I talk about my counselors, because they do such a great job!" says Angelina Vallejo, Sourcewise HICAP's Volunteer Coordinator, of volunteers she onboarded many years ago. "They are volunteers and yet they go above and beyond–they are special."
Sourcewise HICAP counseling is free and available to eligible Santa Clara County residents; view our counseling sites at www.mysourcewise.com/appointments. Contact the Sourcewise Health Insurance Counseling & Advocacy Program: (408) 350-3200, option 2.