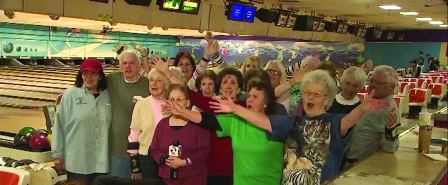 At age 96, Opal Hern never misses a day of bowling with her team: the Swinging Seniors, where Opal is the eldest among her bowling mates.
"I spend a lot of time in my apartment alone, and I like to talk to people and enjoy myself," she said. "I love bowling! And that's what life is all about!"
Socialization is an important aspect of maintaining a healthy life, especially as we age. "It's important to act engaged in your environment, be it through learning, be it through social interaction, be it through exercise," explains Denise Park, Psychologist and Director of the Productive Aging Laboratory at the Center for Brain Health at the University of Texas, Dallas.
Every Wednesday and Friday morning, the team Swinging Seniors rolls into the Homestead Bowl to compete with other senior leagues. The Homestead Bowl is a bowling center tucked away at the intersection of Homestead Road and Stelling Road in Cupertino, California. To complete one 'play,' it usually takes three games which can take two hours for a traditional bowling league.
At this bowling alley, age is just a number for these players. The youngest player on the senior league is 58, and the oldest player is 96 years of age. People of all ages can enjoy and benefit from participating in a bowling league where you can socialize with friends and teammates.
While some bowlers are serious competitors, some others are all about having a good time. Marie Doty, 84, said, "It's just fun, fun, fun! If you have anything that's bothering you, you come here and forget about it. It's kind of your therapy."
Find recreational activities near you. Contact a Community Resource Specialist of Sourcewise: (408) 350-3200, option 1.
This article was originally published in http://www.ktvu.com/news/-senior-swingers-rule-on-cupertino-bowling-league-where-the-oldest-player-is-96#.XGMT5lPZV0A.email.