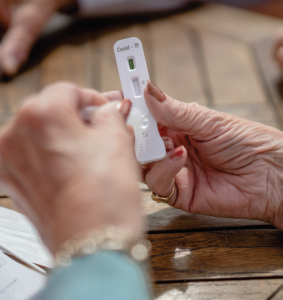 Since January 19, Americans have been able to request four free at-home COVID-19 test kits from the federal government. On March 7, President Biden announced the second batch of free at-home COVID-19 tests is available for distribution upon request. In addition, a phone line has been implemented to make ordering easier for every household.
What does this mean for you? If you have already ordered a batch of four tests in January and February, you are eligible to order an additional batch of four more at covidtests.gov. The COVID-19 test kits will be delivered to your home by the U.S. Postal Service. These test kits are distributed on a per household basis. If you or a loved one is having difficulty with ordering a second batch, check with other members of your household to see if they have already ordered the COVID-19 test kits to the mailing address.
If you or a loved one is experiencing difficulties accessing the computer or ordering the test kits online, the government has set up a hotline for individuals who wish to order their COVID-19 test kits by phone. Simply call 1 (800) 232-0233. The hotline is open from 8 a.m. to midnight Eastern Time, seven days a week, and offers assistance in more than 150 languages.
In addition to the free at-home COVID-19 test kits, the federal government has issued directives that require insurers to cover up to eight COVID-19 test kits per month. You can call your insurance company to inquire more about how to get reimbursed for the test kits.
To learn more about accessing free at-home COVID-19 test kits, speak with a Community Resource Specialist: (408) 350-3200, option