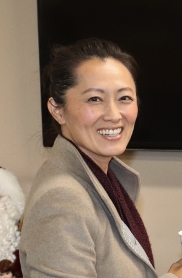 In September 2018, Pai Venegas, Director of Programs of Silicon Valley Independent Living Center (SVILC) was granted "Supervisor award" for her work with participants of Sourcewise Senior Employment Services in Fiscal Year 2017/2018.
For the last eight years, SVILC has been a longstanding partner as a host contributing to the success of the program. A valued partner and resource for Sourcewise Senior Employment Services, Pai shows her merit through her dedication and work ethic."She [Pai] has shown a lot of patience and goes above and beyond to help guide her participants with effective on-the-job training," states Henri Villalovoz, Director of Senior Employment Services.
Under Pai's direction at SVILC, the hosting agency provides supervised on-the-job training to an assigned participant of Sourcewise Senior Employment Services. This relationship provides the participant an opportunity to learn and update professional skills, gain self-confidence, impress their supervisor with their job performance and at times may be offered a permanent, direct employment position within their host training agency.
Pai has consistently contributed to Sourcewise Senior Employment Services at both SVILC locations in Gilroy and San Jose. In Fiscal Year 2017/2018, Pai has supervised three participants, including one in their Gilroy office.
"SCSEP [Sourcewise Senior Employment Services] has provided us the opportunity to assist our host participants to increase their quality of life, rise above obstacles by providing opportunities to enhance existing skills, train for a new career and find a rewarding job," Pai said.
Sourcewise provides training environments through important partnerships with 12 other local organizations, including, but not limited to: Second Harvest Food Bank; Heart of the Valley Services for Seniors; and Catholic Charities John XXIII Multiservice Center.
To learn more about the Sourcewise Senior Employment Services, call: (408) 350-3200, option 5.