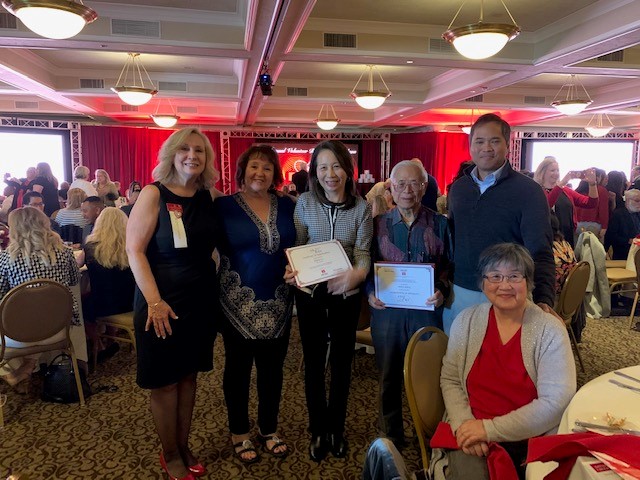 The Junior League of San Jose's mission states, "It is an organization of women committed to promoting voluntarism, developing the potential of women, and to improving the community through the effective action and leadership of trained volunteers."
This year's Junior League Volunteer Recognition Luncheon (VRL) recognized over 100 volunteers with Certificates of Appreciation for their time, impact, initiative, creativity, leadership, effectiveness, and overall activities in volunteering. Ten of these volunteers were further distinguished and presented with Tiffany & Co. Crystal Bowls and stipends of $500 each for their nominating agency. Of these, top honor of "Voluntarism at its Best" was bestowed upon Michele Huntzinger, for her organization "Stand Up for Kids," who was endowed with an additional $1,000 for her group.
Sourcewise Health Insurance Counseling & Advocacy Program (HICAP) was honored to be a part of the 51st Annual VRL hosted by the Junior League of San Jose. This year's VRL was themed "Voluntarism with Love" and was held on February 12, 2020 at Villa Ragusa in Downtown Campbell.
Sourcewise HICAP Certified Counselor volunteers honored at the luncheon were Frank Chen, Eva Wong, and Maria Yu, for ongoing years of dedication and service. Frank Chen has been a HICAP counselor since 2008, Eva Wong has been a certified HICAP counselor since 2009, and Maria Yu has served as a HICAP counselor since 2003. Sourcewise currently has a total of 43 certified HICAP counselors located throughout Santa Clara County, and we're always interested in training more.
If you are interested in becoming a certified HICAP Counselor, contact our Volunteer Coordinator, Angelina Vallejos, at avallejos@mysourcewise.com or (408) 350-3245.