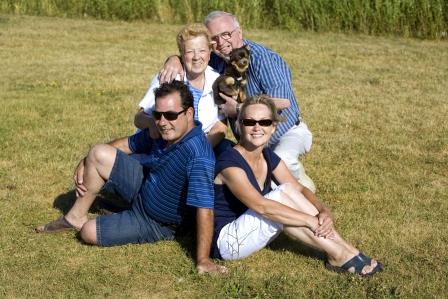 Nearly 40 million unpaid adults provide care for seniors aged 65 and older in the U.S.; with nine out of ten in this group providing care for an aging parent.
Adult children and their aging parents are experiencing a unique family transition. With parents living longer, their children may now assume the role of caregiver for a decade or more.
Caregiving for a parent may start with one adult child assuming the primary role. While this arrangement may work well for a while, eventually other siblings—or in some cases step-siblings—may become more involved.
As more daily assistance is needed, the responsibilities of caregiving increase. Additional caregiving help may be necessary.
Siblings may have different ideas about their parents' needs. Focus on the essentials required for good care. Then, develop a plan which all parties agree upon.
To ease the challenges siblings may face over parental care, consider these options:
Hold a family meeting to help reach the goals of effective, shared decision-making.

Focus on the facts.

Listen to each other's ideas and suggestions.

Be willing to compromise.

Be open to testing new ideas.

Define roles for each family member. Caregiving is a shared responsibility.

Keep communication lines open, especially when creating a plan of action.

Seek advice from someone outside the family. An objective third party may provide a neutral, objective opinion when the family is divided on an important issue.

Consider available resources: Sourcewise provides the Family Caregiver Support Program as a form of temporary respite for unpaid caregivers.
Learn more about caregiver resources. Contact a Community Resource Specialist of Sourcewise: (408) 350-3200, option 1.