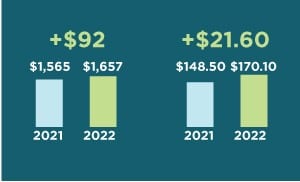 The annual Social Security Administration (SSA) cost-of-living adjustment (COLA) is based on the change in prices of a market basket of goods. To measure these changes and to determine how much the COLA will be, SSA uses the Consumer Price Index for Urban Wage Earners and Clerical Workers (CPI-W). What makes the 2022 COLA special is that it is the largest increase to Social Security benefits since the 7.4 percent hike that went into effect in January 1983. Until this year, COLAs have been modest, averaging a 1.65 percent increase annually over the past decade. The increase that went into effect in January 2021 was 1.3 percent.
"Today's announcement of a 5.9 percent COLA increase, the largest increase in four decades, is crucial for Social Security beneficiaries and their families as they try to keep up with rising costs," said Jo Ann Jenkins, AARP Chief Executive Officer. The COLA announcement made back on October 13, 2021, is expected to provide a boost to average retirement benefits of about $92 per month for individuals, starting in January 2022.
Social Security recipients should note that most of them will see their COLA reduced by an increase in the cost of Medicare. Medicare Part B premiums, which cover physician visits and outpatient medical services, are typically deducted directly from Social Security benefit payments. The standard monthly premium for Medicare Part B recipients in 2022 is $170.10, an increase of $21.60 from 2021. The standard rate applies to beneficiaries with incomes of $91,000 or less for an individual and $182,000 or less for a married couple that files taxes jointly; those who earn more pay higher premiums.
The SSA and the monthly payments provided are essential to income security more so now than ever, especially for older adults. "Social Security is the largest source of retirement income for most Americans and provides nearly all income (90 percent or more) for 1 in 4 seniors," said Jenkins.
To learn more about the changes on Social Security, speak with a Community Resource Specialist: (408) 350-3200, option 1.