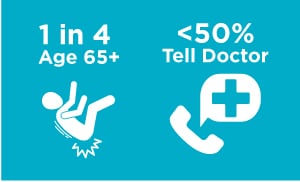 According to the Centers for Disease Control and Prevention, about one in four adults age 65 and older reported falling each year in the U.S., but less than half tell their doctor. Falls continue to be one of the leading causes for deaths  of individuals over the age of 65. Falling once can double your chances of falling again. Falls can occur anywhere throughout an individual's home, with the most common areas located at stairs, bedrooms, and bathrooms.  
Sourcewise has partnered with a regional home modifications company Home Safety Services to provide the "Dignity at Home Fall Prevention Program." Sponsored by the California Department of Aging, Sourcewise funds the Dignity at Home Fall Prevention Program to provide services that include Falls & Fall Risk Assessment, Individualized Fall Intervention, Fall Prevention Education, and Injury Prevention Strategies. The program provides information and education, in-home and virtual assessments to identify potential hazards, and purchases home modification equipment for older adults and adults with disabilities.  
Individuals who may be eligible to receive assistance must: 
Be 

60 years of age or older 

 

Be a

n

 a

dult with 

a disability

 

Have a

 h

ousehold income

 that

 does not exceed $85,409

 

Have income verifi

cation

 

Be a

 South County resident (Gilroy, San Martin, Morgan Hill)

 
Fall prevention modifications include grab bars, shower chairs, transfer benches, handheld showers, toileting aids, ramps, and more. The program is available to qualified low-income South County residents who are at risk of falling at home. 
To learn more about the Dignity at Home Fall Prevention Program to help plan and prepare for you or your loved one, speak with a Community Resource Specialist: (408) 762‑7362.