Sourcewise Celebrates 50 Years of Service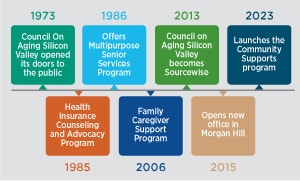 Since the days when we were known as the Council on Aging Silicon Valley, Sourcewise has focused on serving Santa Clara County (SCC) with consistency and a constant drive to develop new and innovative solutions.
When Sourcewise doors opened in 1973, we only offered Senior Employment Services and Meals on Wheels. Fast forward 50 years later, we have added seven other programs, and a multitude of direct services, and opened an additional office in Morgan Hill. A few notable program/service additions include our Digital Inclusion, CalFresh Application Assistance, and Community Supports.
Beyond our direct services, we work with a network of grantees to broaden our impact in the community by providing funding for services that are critical to the lives of seniors and family caregivers throughout Santa Clara County. Among our grantees are organizations like Senior Adults Legal Assistance, Live Oak Adult Day Care, Family Caregiver Alliance, and more.
To ensure we are listening to all members of the SCC, we work closely with our Advisory Council. The Sourcewise Advisory Council provides valuable advice and insights; advocates on behalf of the most vulnerable; and, on occasion, informs the community about what resources and services are available through Sourcewise.
As we look forward to the future, we are always looking for ways to improve our current programs while also investigating new services that can better improve the lives of all persons with disabilities (aged 18 or older), seniors, and family caregivers in Santa Clara County. We appreciate everyone who has supported us over the past 50 years!
To learn more about Sourcewise and the programs/services being offered, speak with a Community Resource Specialist at (408) 350-3200, option 1, or email community@mysourcewise.com.