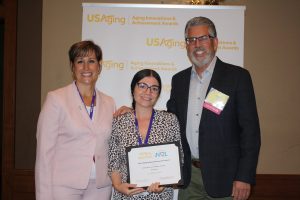 Santa Clara, July 28, 2022: Sourcewise announces that its Google Home Smart Speaker (GHSS) Program recently received a 2022 Aging Achievement Award from USAging, one of the highest honors presented by USAging to its members. The GHSS, a pilot program, that provided a smart speaker along with technical training and assistance to seniors facing social isolation and loneliness in Santa Clara County, was among 43 local aging programs to receive honors during USAging's 47th Annual Conference and Tradeshow, July 10-13 in Austin, TX. The awards program is supported by iN2L, provider of the leading engagement and social connection platform for seniors, offering a foundation for activities that facilitate social interaction, cognitive and physical exercise, education, reminiscing, areas of interest, and memory support engagement.
The 2022 USAging Aging Achievement Award program recognizes Area Agencies on Aging and Title VI Native American Aging Programs that have developed and implemented cutting-edge concepts, innovative ideas and successful strategies to support older adults and their caregivers. Among the selection criteria was the ease with which other agencies could replicate the program in their communities.
"Through the Aging Achievement Awards, we salute our members' outstanding accomplishments and hold up their programs in the hopes that doing so will seed replication and additional innovation by their peers around the country," said Sandy Markwood, Chief Executive Officer of USAging. "We applaud our members for their tireless efforts to creatively develop vital services and supports for older adults, as well as their caregivers and people with disabilities in communities nationwide."
The GHSS pilot program was developed as a result of the pandemic and its impact on seniors. Many older adults were unable to see their loved ones and lacked access to technology, resulting in social isolation and loneliness. Sourcewise worked quickly to distribute over 1,300 GHSS to seniors 60+, half were distributed through non-profit community partners. Sourcewise worked quickly to launch its first digital inclusion program and partnered with CTN (Community Tech Network) to provide training. In less than a year, 610 devices were distributed to seniors. To ensure diversity, equity, and inclusion, the diverse and bilingual team provided services to Spanish and Mandarin-speaking populations and focused outreach to underserved communities.
"Sourcewise's Digital Inclusion program fills a critical gap by supporting socially isolated seniors with a device, training, and support to stay connected to their loved ones and the larger community. More needs to be done to end the digital divide among older adults. I am proud of the Advisory Council's advocacy work, led by Richard Adler, coupled with our Digital Inclusion team's hard work on the ground to support seniors. We are excited to continue this work through new projects such as the CHAT iPad program in partnership with the California Department of Aging," said Aneliza Del Pinal, CEO, Sourcewise.
The 2022 USAging Aging Achievement Awards honored traditional and new strategies in a range of categories, including Advocacy, Diversity, Equity and Inclusion, Elder Abuse Prevention, Healthy Aging, Home and Community-Based Services, Nutrition, Social Engagement, and Workforce Development.
All winners are showcased in the USAging Aging Achievement Awards Showcase.
About Sourcewise
Since 1973, Sourcewise is a nonprofit organization and the Area Agency on Aging for Santa Clara County. Our mission is to provide adults and their caregivers the tools and services they need to effectively navigate their health and life options. In 2020, the organization served 100,235 individuals across 10 programs and services helping the aging population, caregivers, and individuals with disabilities thrive. For more information and to get involved, visit mysourcewise.com.
About USAging
USAging is the national association representing and supporting the network of Area Agencies on Aging and advocating for the Title VI Native American Aging Programs. Our members help older adults and people with disabilities throughout the United States live with optimal health, well-being, independence, and dignity in their homes and communities. USAging is dedicated to supporting the success of our members through advancing public policy, sparking innovation, strengthening the capacity of our members, raising their visibility, and working to drive excellence in the fields of aging and home and community-based services. For more information about USAging, AAAs or Title VI programs, visit usaging.org.
###
Contact information:
Information & Awareness
(408) 350-3200, option 1
We welcome the re-use, republication, and distribution of Sourcewise content. Please credit us with the following information: Used with the permission of mysourcewise.com
2022.07.28_Sourcewise-Google-Home-Smart-Speaker-Program-Receives-Prestigious-Aging-Achievement-Award-from-USAging