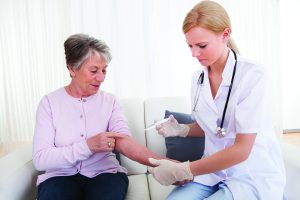 According to the Centers for Disease Control and Prevention (CDC), flu activity typically spreads in the winter and is most often peaked in February. However, every flu season is different and the substantial health impacts can vary widely from season to season.
The flu vaccination can help keep you from getting sick with the flu and its potential complications. The U.S. Food & Drug Administration (FDA) approves flu vaccines for the prevention of influenza disease and to help protect against four different virus strains of influenza. Regardless, for those who get the flu, there are FDA-approved antiviral drugs available by prescription to treat the illness. These drugs work best if started soon after the onset of symptoms (within 48 hours).
By now, we are familiar with COVID-precautionary measures. These same practices can help protect you and your loved ones from getting the flu:
Avoid people who are sick with flu-like symptoms.
Stay home if you have flu-like symptoms to avoid getting others sick.
Wash your hands often with soap and water for at least 20 seconds.
Avoid touching your face, eyes, and mouth.
Regularly clean and disinfect commonly used surfaces.
Bay Area Community Health (BACH) is a nonprofit health center providing a diverse spectrum of healthcare services and education to the underserved in southern Alameda County and Santa Clara County. BACH is offering flu vaccines to community members at various pop-up locations. Drop-ins are welcomed, but they are subject to availability.
To learn more about the flu vaccine and available vaccination resources, speak with a Community Resource Specialist: (408) 350-3200, option 1.