The Inflation Reduction Act Will Benefit Millions of Americans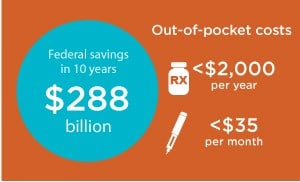 Prescription drug price increases are one of the main reasons why some Americans skip or delay filling their drug prescriptions. According to Centers for Medicare & Medicaid Services (CMS), President Biden signed into law the Inflation Reduction Act (IRA) in August 2022. This landmark law gave a peace of mind to millions of Medicare beneficiaries by lowering the prices of prescription drugs. This new law is the most significant health care legislation since the Affordable Care Act.  
Beginning in 2026, the new drug law requires the federal government to negotiate prices for some top-selling drugs covered under Medicare Part B and Part D, preventing drug companies from raising prices more than inflation. Drug companies will have to pay rebates if prices rise faster than inflation. This rebate is paid to Medicare and will be calculated and invoiced by CMS.  Included among the 43 prescription drugs are cancer medications, blood thinners, and insulin. The lower Part B coinsurance on the listed drugs took effect July 1, 2023, and will be effective as of September 30, 2023. 
The law's drug price reforms are projected to generate $288 billion in federal savings over the next decade. Medicare beneficiaries will experience improved affordability because the act creates a new $2,000 maximum on annual out-of-pocket costs for prescription drugs and caps insulin cost sharing at $35 per month. In addition to lowering drug costs, the new law makes improvements to Medicare that will expand benefits, keep prescription drug plan premiums stable, and improve the sustainability of the Medicare program. 
To learn more about the Inflation Reduction Act, speak with a Community Resource Specialist at (408) 350-3200, option 1.