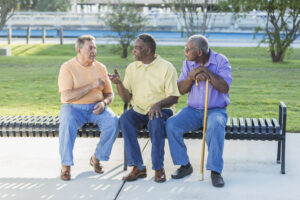 It could eventually be easy to forget to take care of yourself when you are surrounded by people who need you the most. However, it is essential to remember the one thing that needs you the most is yourself – mind, body, and spirit.
There are many contributing factors that go into maintaining your health, such as eating healthy, making sleep a priority, focusing on your strengths, and making sure you are staying active.
Eating healthy may be difficult to maintain but one of the most important things you can do for yourself is consume foods that will benefit you. Incorporating healthy eating habits can help you when it comes to preventing diseases, such as heart disease and type 2 diabetes. As you form new healthy eating habits, you may notice an increase in energy, a boost in your immunity, and numerous other benefits.
Healthy aging not only means adopting a balanced diet, but it could also mean staying active. Staying active can have a variety of meanings. It can be as easy as walking around your block two or three times a day, starting a garden, or completing a few simple stretches. All of this and more can be super helpful in the long run.
Staying active is not only beneficial when it comes to maintaining your physical health, but it can be beneficial to your mental health as well. According to the National Institute on Aging, you will likely notice reduced anxiety levels, enhanced sleep, and decreased doctor visits. It is never too late to start healthy behavior changes to be able to live more independently.
To learn more about healthy aging tips, speak with a Community Resource Specialist: (408) 350-3200, option 1.