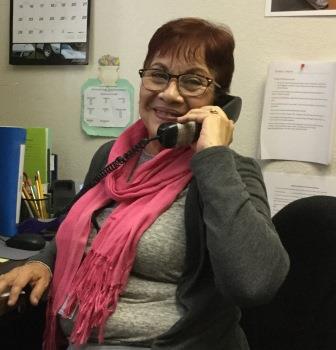 Unemployed for 10 years, Virginia was determined to rejoin the workforce and visited Work2Future in hopes of finding new job opportunities. While researching her options, she learned about Sourcewise Senior Employment Services. She visited Sourcewise and quickly began the enrollment process.
Virginia is now a Staff Assistant and Hospitality Coordinator for Heart of the Valley Services for Seniors, Inc., a host organization of Sourcewise Senior Employment Services in Santa Clara County.
Among other responsibilities, Virginia completes electronic intake forms for incoming volunteer requests, a task which has strengthened her computer skills.
Virginia's position offers varied experiences. She explains, "I wear many hats at Heart of the Valley. Every day is different, and I have learned new skills to add to my resume."
Glenda Cresap, Executive Director of Heart of the Valley Services for Seniors, Inc. said, "It is such a pleasure working with Virginia. Her positive spirit is such a joy for the clients she speaks with. She has genuine compassion for older adults and the challenges they face. She is such a benefit to our staff and to the mission of our agency. Virginia is eager to learn new things, which in turn assists with the workload…" Learn more about the programs and services Heart of the Valley by visiting https://servicesforseniors.org/.
Virginia feels fortunate. "I think that anyone who enters into the Senior Employment [Services] is going to be in a position to give back." Virginia feels livelier now that she is back in the workforce and is grateful for the support that both Sourcewise and Heart of the Valley have shown her.
Learn more about Senior Employment Services: (408) 350-3200, option 5.