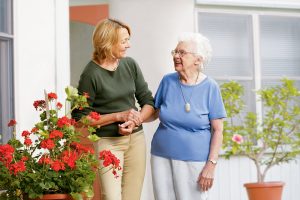 While many people may be aware that May was designated "Older Americans Month" by President John F. Kennedy in 1963, far fewer know that February also celebrates older Americans. Every February, the nation celebrates Senior Independence Month to support dignified and full lives for each senior member in our community.
Senior Independence Month as we know it today began in the 1800s. The Industrial Revolution was sweeping across America, disrupting traditional, social, and familial networks. As individuals moved to the cities and became dispersed over the U.S., the vacuum of extended families left many people stranded in times of need. Women's organizations and church groups established the first homes for the elderly, and other organizations slowly popped up after.
A simple way to support National Senior Independence Month is by investing in making public spaces assessable through the construction of public infrastructure such as elevators, ramps, and rails. This helps keep seniors active and mobile, while still retaining their independence. Another way to support is through helping seniors adopt and comfortably use technology. This can protect them from fraud, monitor their health, connect with their loved ones, and so much more.
Most importantly, as we prepare to celebrate National Senior Independence Month, one of the most impactful ways to support seniors is through building relationships. An easy way to start is by visiting with older relatives and exploring volunteer opportunities at senior citizen centers, retirement homes, and nursing homes. Investing time and resources into senior citizens create a more inclusive society for everybody while striking to the heart and purpose of National Senior Independence Month.
To learn more ways to get involved, call (408) 350-3200, option 1 to speak with a Community Resource Specialist today.