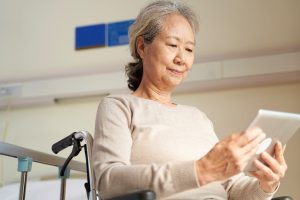 For some older adults, using a new form of technology like tablets can be intimidating. As a result, some older adults decide against learning how to use these devices and may not understand the applicable benefits they can bring to their daily lives.
In 2021, Sourcewise worked with older adults in the Google Home Smart Speaker (GHSS) pilot program to demonstrate how they can use the device. Within one year, the program distributed 610 devices coupled with virtual group and one-on-one trainings in partnership with Community Tech Network. Many of the participants used the device through voice commands to help with medication and appointment reminders, translations, accessing news, playing music, and hands-free calling.
"Thank you for my Google Home system. It sounds 'a little crazy,' but it keeps me company. I have been primarily by myself for the last two years without support. I like the system a lot. It tells me corny jokes, keeps track of my appointments and grocery lists, and finally, I love to play music late at night when I can't sleep," stated Victor, a GHSS program participant.
The Sourcewise Connections, Health, Aging & Technology (CHAT) Program is preparing to launch in partnership with the California Department of Aging. An iPad tablet is provided for the duration of the program, combined with virtual training in multiple languages including English, Spanish, Mandarin, and Vietnamese. The iPads come ready for use with a paid data plan so participants may access the internet. Devices are limited and available while supplies last.
To be eligible for the CHAT Program, you must:
Be 60 years of age or older
Live alone
Not currently own a tablet
Be a resident of Santa Clara County
If you or a loved one is interested in participating in the CHAT Program, take the brief interest survey available on our CHAT Webpage.
To learn more about the CHAT program, speak with a Community Resource Specialist: (408) 350-3200, option 1, or email tech@mysourcewise.com.