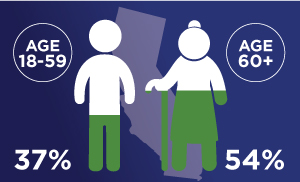 As of June 2019, for the first time, seniors and individuals with disabilities who receive Supplemental Security Income (SSI) or State Supplementary Payment (SSP) may be eligible to receive CalFresh benefits without it affecting their SSI/SSP benefit amount.
In California, 54% of seniors age 60 and over, and 37% of adults between the ages of 18-59 receive SSI or SSP, according to the California Department of Social Services.
CalFresh is available to low-income individuals who meet the federal income eligibility. CalFresh issues the Electronic Benefits Transfer (EBT) card to qualified individuals. The EBT card is valid at most grocery stores and many local farmers markets, all of which offer newly eligible CalFresh recipients access to purchase fresh, nutritious, unprocessed, locally grown fruits, vegetables, and fresh-cut herbs.
CalFresh food benefits may range from $15 to $192 per month. The average food benefit amount available nationally for an older adult or person with disability is $105–$110 per month. If approved, the CalFresh food benefits will be loaded to the recipient's EBT card on a monthly basis.
Newly eligible SSI recipients will need to apply for CalFresh either via telephone, online at www.getcalfresh.org, or in person at locations around the county.
SSI recipients who currently receive CalFresh do not need to apply as they will be added automatically to the existing CalFresh household at the next semi-annual or annual report. Individuals who might not be eligible to receive CalFresh may have access to alternative government support programs.
Sourcewise provides one-on-one application assistance for older adults, their loved ones, and individuals with disabilities.
Learn more about the CalFresh benefit expansion, how it might affect you or someone you know, or get application assistance: speak with a Community Resource Specialist of Sourcewise: (408) 350-3200, option 1.